Practicing ancient Hindu art of Ayurveda for making Herbal and Ayurvedic Products to develop a healthy world...

With the blessings of Epoch, Asetic, Highly Knowledgeable, Social Reformer, Women Education, Evangelist, Freedom Original Mantra Dbnar and Aditya Brahmachari Maharishi Swamiji Karamveer ji with his great kindness and by the grace of God, I got good luck to have Post Graduation in Veda, Philosophy and Yoga. Swamiji Karamveer ji who was full of kindness,who spend his entire life to serve the grieved mankind , but fanatic people did not spare him and unfortunately he was to face insult so many times.

But his work to serve the mankind was not stopped and he continued his work to offer Vdaamrit to mankind. Swamiji wanted to get true SHIVA therefore, he left his family in very young age in search of Shiva. After leaving his home he met many Yogis and learned deep secrets of Yoga. When he learnt the deep secrets of Yoga he lived at the ancients places of meditation, he then moved to clean Himalaya valleys and was absorbed in meditation on the banks of Alaknanda river. Swamiji achieved the state of meditation and use to remain in that state for maximum time during the 24 hours. Once Swamiji was in meditation at the holy bank of river Ganga, the moment he finished his meditation, he witnessed an incident which promoted him for society reformation.
A widow mother came with the dead body of her son to who she flowed the body in the holy river Ganga and took out the Shroud. When Swamiji asked the reason of this act, then she cried and replied that she was not having the Shroud therefore she cut a portion of her saree and use it, now she will stitch it back and will cover her body. On witnessing this karmic view, Silvamiji Karamveer ji who did not cried on the death of her beloved sister but he could not control himself and cried a lot and he had a deep pain and he said my country is known as "Golden Bird" and such a condition of people of my-country, where females are using sarees as Shrouds. This incident made Swamiji shaky and he dedicated his entire life to improve the conditions of mankind. Today, I also have been motivated with life style of Swami Dayanand Saraswati and I am on his path to help the human beings who has the sufferings from Epiophilic and Atriasis pains. To remove this pain Maharishi Patanjli Yoga is dedicated to remove all medical illness through AYURVEDA.

About UsArogyam Nutrients
was conceived with an objective to provide nutritional security to vast population. Its products were visualized to be in their purest form possible. Therefore organic products were used as far as possible. The owners of Arogyam have large stretches of fertile agriculture land and produce wheat, rice dals, sugar cane, mustard mangoes, jamun, guvavas and seasonal vegetables, all in organic form. A good stock of cattle adds to the resources. Bee keeping provide strong support in it products with pure honey. Initially it aimed to cater to particularly rural population. However, with the development of the organization, the urban population was also taken under its protective umbrella.
Soon we will also be coming up so many Organic Products.
The founders of Arogyam have a philosophy of serving the humanity and making profit is secondary. Therefore quality products made available at affordable price so that the prooest section of society can be also benefit, has been on top of the agenda of the development of the organization.
Products and Growth under watchful eyes of Experts:
Narender Singh, after doing my post graduation of food Science and Technology, I worked with GD Food Manufacturing Company (TOPS), Patanjali Ayurved Ltd. ABC Food Ltd and Fun Food Pvt. Ltd. Bhiwadi, Prestine Valley appicultures Ltd. upto the level of General Manager, even was a consultant several food processing industries in their project planing R&D and their overall development. But I was not satisfied with all that as I was carry a dream of establishing our own Avurvedic / Herbal Unit to serve the common man of our country.
Dr. C.S. Verma, who did his PH.D. On Reform of Soviet Foreign trade Sector, FRM Jawahar Lal Nehru University, New Delhi and has a experience of 24 years in Research and teaching. He has a long experience to serve the community while participating in many programs of Government of India. Under his guidance we have also been motivated to connect with the common man are always been inspired by his approach to reach the ground level of the society. He is a Development Expert looks after the Public Relations of the organization.
Dr. Sushmita Verma, MBBS DGO Gynecology & Obstatrics, Senior Consultant, Ram Manohar Lohia Hospital, Lucknow. She has worked in U.P. Provincial Medical Service for 25 years with a great commitment to serve the people. She has also been motivational factor to improve upon the quality and production and we also get the idea to bring more ayurvedic health care products. She ensure the quality of nutrients in the products.
Ms. Lancy Verma, Biotechnologist (M. Tech, Biotechnology), Production manager a is in charge of the processes and puts in most of her time looking after purity and quality of Arogyam products.
Mr. Sanjeev Kumar (Bhatnagar), we are thankful to him who is a retired senior government official, who has his 33 years experience in Central Government, Multinational companies. He is associated with us with his guidance in marketing and contributing to adopt the new fundaments for Domestic and International Market.
Dr. Rajest Purohit, who has done his M. Pharma Ph.D. In Geriatric Yoga and has a marketing experience of 21 years in Pharma Companies viz. Plethico Pharmaceutical, Bestochem, Shreya Pharmaceutical, Friends Pharmaceutical Worked as a Product Manager, Zonal Manager. He his with us with a vision of taking Arogyam Nutrients on different tangents.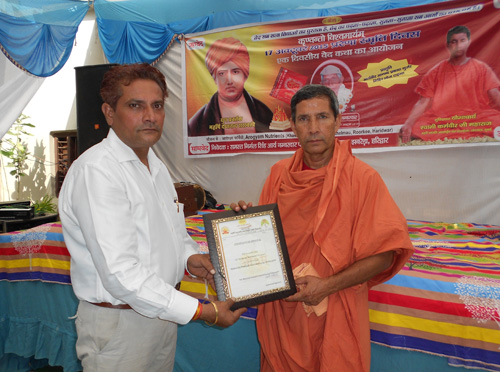 Get in touch with us